Book Vooza For Your Event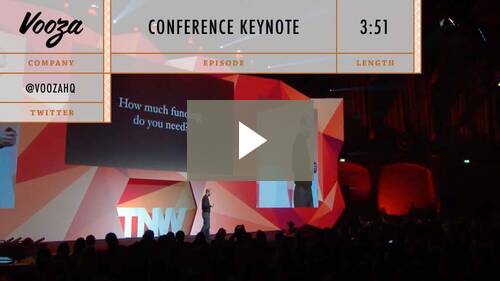 The tech world is buzzing about Vooza. Get in on the action by inviting Vooza to come speak at your tech conference, school, workplace, or Bat Mitzvah. We'll deliver some laughs and give people a break from all that tech jargon BS. Plus, we're cheaper than a Steve Jobs hologram. Contact us or read on to learn more.
Testimonials
"Matt addressed 250+ business executives at our Annual Conference in Denver. He provided a welcomed break of humor by lampooning tech entrepreneurs and start-ups. He then transitioned into a terrific presentation on how business leaders can use humor to their advantage with clients and employees. It was a great combination–providing laughs as well as valuable takeaways that can be utilized by executives and managers in any setting."
-Art Flanagan | Vice President, Communications | CASRO
"Matt was our closing keynote for FI Live 2014, and what a great way to end the show. His comic look at the start-up world was hilarious and had the whole room in fits of laughter. A mixture of Matt's stand up wit and very funny Vooza videos the talk was a hit. Comedy is hard at a conference especially a tech conference but Matt nailed it! I am looking forward to inviting Matt back for Future shows."
-Natasha Waldron | Event Producer | Future Insights
"We recently featured Matt at TechFestNW in Portland, and he had us all laughing at the follies and foibles of his fake startup Vooza for nearly an hour. It was refreshing to take his lighter and witty look at those brave entrepreneural souls who take their dreams public, exposing some of the many absurdities and confusing jargon that we all manage to put up with in real life. I'd highly recommend Matt as a great way to spice up any tech, startup or entrepreneurial conference or event."
-Terry St. Marie | Startup investor & emcee | TFNW
"Matt gave a pitch for Vooza during The Next Web Conference USA 2013. Having enjoyed the Vooza videos for over a year, it was great to see that the humor worked just as well live. We were treated to satirical advice for entrepreneurs from Matt's expertly realized spoof character. It left me thinking that more conferences should feature standup comedy – it really made for a perfect change of pace."
-Martin Bryant | Editor-in-Chief | The Next Web
"C3, the Creative Change Community in Richmond, Virginia booked Matt Ruby to speak to our audience. His material satirized startup culture and the venture capital community. The material was hilarious and the audience was laughing throughout. I would recommend any tech or business-savvy audience to hire Matt." 
-Carl Johnson | Chairman | RVA Creativity Awards
"In a star-studded tech lineup at NYC Uncubed, Matt was our most entertaining speaker." 
-Chris Johnson | Co-Founder at Wakefield Media | Uncubed
Book our CEO
Vooza's CEO Matt Ruby (known on the show as Matthew Stillman) can deliver insight into how to run a "successful" startup. Top 3 reasons to book him:
• He is a standup comedian with tech world credentials, perfect for hosting or giving a presentation at your conference.
• He delivers a fun performance full of the, ahem, wisdom you see at Vooza.
• Let's be honest: The other people you booked are kinda boring.
Listen to Matthew discuss startups on the Informly podcast: "6 secrets to startup success with Matt from Vooza."
Book the whole team
You can also invite other members of Vooza's team to deliver a funny presentation.
Get in touch
Contact us about bookings or anything else you've got in mind.
I'm at @tfnw at the best startup talk ever. #vooza

— Lyzi Diamond (@lyzidiamond) September 7, 2013
Watching @VoozaCEO conduct the best talk I've ever seen at any conference. #vooza #tfnw

— JC (@TheINDIEHost) September 7, 2013
Making the world a better place doing things they have always been done. Getting schooled by @VoozaCEO Matt Stillman LOL #tfnw

— Robert Hughes (@rlhughesPNW) September 7, 2013
@voozahq Your talk sparked a lot of questions for me. Thank you for inspiration and the laughter.

— Paula Kuhn (@p_kuhn) September 8, 2013
"@jauntsetter: @voozaceo thanks for being the Andy Kaufman of #uncubed ❤" Yer welcome! Andy Kaufman, he's one of the PayPal founders, right?

— Vooza (@voozahq) November 14, 2012
Great presentation by @voozahq. Very insightful #filive

— The Pixel Geek (@thepixelgeek) June 18, 2014